Clare-Tour.com Information for visitors to Clare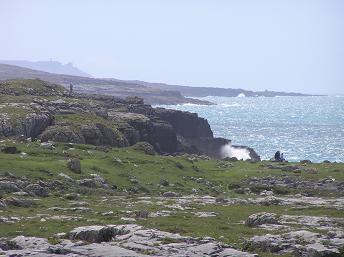 Clare- Tour.com gives you all the information you need to enjoy your visit to Clare. We've got articles on what you need to get here, how to travel around once you've arrived, and lots things you won't want to miss while you are in the Banner County - all this plus great offers on Car hire and accoomodation. Clare is a great county to visit from the Bunratty to the Burren and Lough Derg to the Cliffs of Moher there is a wide range of things to see and do during the day. At night live music and "craic" abound in the pubs. Being so close to the sea Clare has many fine sea food restaurants and whether you choice of accommodation is hotels, Bed and Breakfasts, hostels, caravan park or campsite you'll find a warm welcome throughout County Clare. If there is anything else you would like to see on Clare-tour.com get in touch with us here and let us know, we hope you enjoy your visit to Clare....
Mountshannon is a small picturesque village on the shores of Lough Derg, the largest and busiest lake on the Shannon river. The village itself is elevated on a hill overlooking a beautiful harbour with an exceptional vista of the lake and its islands.

Many watersports can be enjoyed on the lake including boating fishing and kite-surfing. Bike hire is a great way to get around and explore while holidaying on the lake.

The two most famous islands on the lake are Holy Island and Bushy Island. Bushy Island has a pair of white-tailed eagles nesting on it. These amazing birds can be easily viewed using binoculars and scopes from the shore at Mountshannon Harbour. A Bird Viewing & Information Point is set up at Mountshannon Harbour, equipped with telescopes to view the eagles from the shore. White-tail eagles were reintroduced into Ireland quiet recently, if you are lucky and come at the right time of year you may see chicks in the nest.


Cruise / Boat Trips County Clare has an abundance of rivers and lakes and miles of coastline, which means wherever you are in Clare you're not far from water. There is a wealth of boat trips and cruises to be enjoyed in this beautiful county. Take a cruise to the Aran Islands or the Cliffs of Moher, or out into Lough Derg.
Located just a couple of miles south of Ballyvaughan, Aillwee Cave is Ireland's Premier show cave. There is a whole labyrinth of caves, pot holes, underground lakes and streams beneath the surface of The Burren, but Aillwee is the only one that can be explored without the aid of special equipment.
Williams Hardware has been running a bike rental for the last 20 years. We are based in the famous and very popular resort of Kilkee.
Carrygerry is a Charming "Old World" Country House, full of History, which was built in 1793, near Shannon, in the Scenic County Clare in the West of Ireland. Less then 10 minutes from Shannon International Airport, you can experience a Country House atmosphere of peace & tranquillity, with antique furnishings & glowing fires.
Burren Court is a small family run development of just 8 apartments set around a beautifully planted courtyard overlooking Corkscrew Hill near the villages of Ballyvaughan and Lisdoonvarna on the edge of the Burren.