Clare-Tour.com Information for visitors to Clare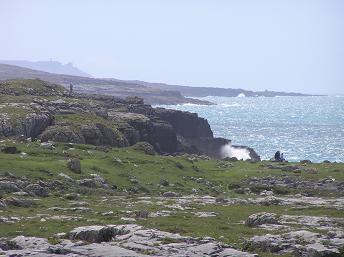 Clare- Tour.com gives you all the information you need to enjoy your visit to Clare. We've got articles on what you need to get here, how to travel around once you've arrived, and lots things you won't want to miss while you are in the Banner County - all this plus great offers on Car hire and accoomodation. Clare is a great county to visit from the Bunratty to the Burren and Lough Derg to the Cliffs of Moher there is a wide range of things to see and do during the day. At night live music and "craic" abound in the pubs. Being so close to the sea Clare has many fine sea food restaurants and whether you choice of accommodation is hotels, Bed and Breakfasts, hostels, caravan park or campsite you'll find a warm welcome throughout County Clare. If there is anything else you would like to see on Clare-tour.com get in touch with us here and let us know, we hope you enjoy your visit to Clare....
Doonbeg is located on the West coast of County Clare Ireland. It has a scenic landscape with Atlantic coastline, golden beaches, rare flora and fauna and, most of all, with its friendly atmosphere.

Visitors to Doonbeg have an excellent variety of holiday activities at their disposal from boating and angling in the deep sea or freshwater to enjoying sandy beaches or surfing, spa days or many more activities.
Loop Head Adventures Explore the unexplored of County Clare, the very tip, the last sod, where few have gone before you. Bring hiking boots and rain gear and a wet or dry suit for swimming. Cycle around for the day. Spend the weekends here, camping out in tents or staying at local Bed and Breakfasts.
Vandeleur Walled Garden & Centre Beautifully constructed walls enclose this sheltered Walled Garden which is set among 420 acres of native woodland. Once the forgotten garden of Kilrush House, home to the Vandeleur landlords.
CycleWest Ireland Adventure cycling vacations in the West of Ireland. We use our local expertise and first hand knowledge of Ireland to combine the best of routes and custom itineraries.
The hotel is just 3KMs from Shannon airport and provides an excellent base from which to explore all that the West of Ireland has to offer. Dine in the Restaurant which is a brand new experience for our more discerning patrons with expectations of fine food with discrete and experienced service.
Located in a small village of Bunratty famous for the castle and folk Park Bunratty Castle Gardens provide a convient location with good proximity to both Shannon airport and numerous local attactions.